What is a refurbished photocopier and how does it differ from a used photocopier?
What is a reconditioned used copier?
A reconditioned photocopier is a used photocopier that has been completely disassembled, cleaned, overhauled and whose wearing parts have been replaced by new ones. We can therefore no longer speak of a used photocopier but rather of a reconditioned photocopier.
However, we prefer to talk about refurbished photocopiers. Certain practices in the field of electronics aiming to pass off second-hand equipment as reconditioned equipment, lead us to avoid presenting our machines as reconditioned photocopiers but as refurbished photocopiers.
Refurbishment allows us to give a new lease of life to equipment that has already been in operation for several years and has printed between 200 and 300,000 copies, i.e. ¼ of its total capacity, since a modern entry-level copier is designed to print up to 1.2 million copies.
The refurbishment process ensures that your machine will operate as it did when it was first put into service.
The first maintenance appointment for your refurbished copier will be scheduled at the earliest possible time when the print drums are worn out.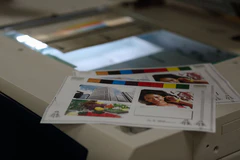 Is a reconditioned photocopier systematically refurbished?
The answer is no. You have probably already bought a refurbished smartphone and after a few months or weeks, you realized that it had not been refurbished. And you felt like you had been cheated and you are right.
Refurbished products do not meet any standard (not yet, but we are working on it). It is up to the reconditioner to decide what operations must be performed on a device before putting it back on the market.
For reconditioned photocopiers it is the same thing. There is no standard and the reconditioned photocopiers may simply have been cleaned, dusted and checked. That's why we've developed a rigorous refurbishment process that ensures that all wearing parts have been replaced with new ones. It takes more than two days to refurbish a photocopier when some people refurbish them in two hours.
Your reconditioned photocopier will work as it did when it was first put into service.
In normal use, the first maintenance appointment for your machine will take place after approximately one year, depending on how often you use the machine.
What operations does a reconditioned photocopier undergo?
During the refurbishment operations, the wearing parts replaced by our technical team are:
black ink drum assembly
cyan ink drum assembly
yellow ink drum assembly
magenta ink drum assembly
4 developers
transfer cloth
toner fixing oven
various lugs, levers, rollers, cleaning squeegees to grip and guide the sheets of paper throughout the inking and/or scanning process.
used toner recovery bin
In addition to the replacement of consumables, the following checks and actions are performed:
cleaning the sheet feeder of the scanning unit
cleaning of the paper input and storage mechanisms
cleaning and dusting of all the pre and post drum rollers and pins, oven and transfer cloth
cleaning and dusting of the casings and electronic cards,
tests after refurbishment
sealing of paper cassettes and inspection doors with adhesive tape
packing and protection
putting on pallet
Acquiring a reconditioned or rather refurbished photocopier is the assurance of access to equipment in excellent condition (like new) at only a fraction of the price of a new machine. And it's also one more stone in your CSR edifice.